IRS Form 990 Basics, Part 1: What Every Booster Club Needs to Know
26:45
All nonprofits that raise any amount of money must file an IRS Form 990 tax return. Because you're tax-exempt, you're not paying any tax on the money you raise but the IRS still wants to know what you are doing. You let them know by filing a 990 tax return. And if you don't file for 3 consecutive years, they will automatically revoke your tax-exempt status. No questions asked. Don't let this happen to you! Tune in to this webinar to find out exactly what you need to do to stay on the good side of the IRS. Nonprofit attorneys and subject matter experts, Sandra Pfau Englund and Drew Englund will go over the "who, what, when, and how" of the 990. This webinar is Part 1 of 2 and will focus on general concepts and the 990N; Part 2 will go into the weeds about the more complex 990EZ and 990 full returns.
Handouts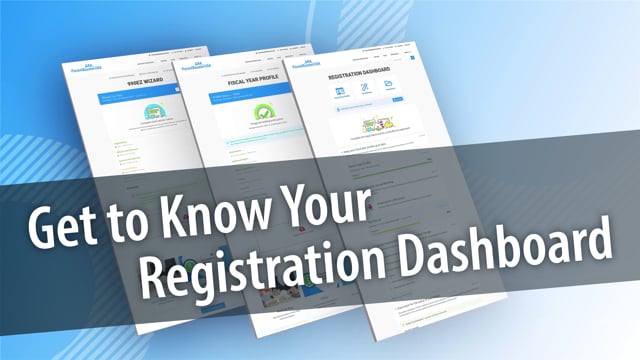 Get to Know Your Registration Dashboard
04:41
In this video, we'll be helping you get to know your registration dashboard. This dashboard, and the information collected here, is what allows us to file your state and federal registrations and renewals. Whether you are just starting out, or simply need a refresher, this video will cover the basics.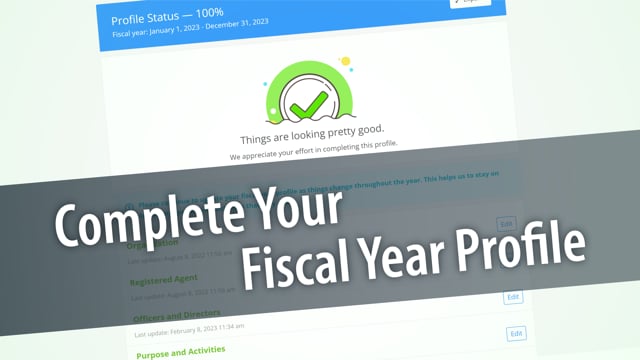 Complete Your Fiscal Year Profile
09:48
The single most important part of your registration experience, the fiscal year profile is what allows us to complete any necessary state filings on your behalf. We also use this information to prepopulate sections of your IRS 990-series information return, sometimes referred to as a tax return.